You can order with your credit card if the delivery address is in Canada.
From breakup to glowup Gift Box
Buy now
$ 52.00
Our opinion
Life can get difficult sometimes after a breakup so it is important to take a step back, take some time to relax and take care of ourselves. What better way to do this than with this From breakup to glowup gift box! This is a great gift to give to someone going through a difficult separation. This box is sure to cheer them up!
When you purchase a gift from Sam & Lance you are supporting a female-owned business. Their business also plants trees to help our Earth and their products are never tested on animals.
You can also chose a card and gift message to include for the recipient.
Gift Idea Description:
This gift box includes : 
Mini candle tin - Mimi & August
Berry booster - Tease Tea
Vegan dark milk chocolate - Soul Chocolate
Organic cotton scrunchie - The Good Tee
For more information, visit Samandlance.com


This product is sold by SAM & LANCE: Shipping information:
Delivered by Canada Post
Free shipping from $100,00
Some questions before buying?
Questions & Answers on SAM & LANCE (F.A.Q.)
See more gift ideas from SAM & LANCE: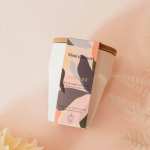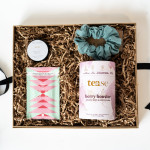 View all ideas from SAM & LANCE >>
Buy this gift idea