Buy on Samandlance.com
$ 49.00
Our opinion
Life can get so busy sometimes so it is important to take some time to relax and what better way to do this than with the gift of self-care! Sometimes it is hard to remember to put aside time to take care of oneself but this gift box is a nice reminder to do just that! 
Begin the at-home manicure with some super soothing plant-based cuticle oil. Made in Toronto, this oil will ensure your cuticles and hands are well cared for. The eco-friendly, all-natural, and cruelty-free nail polish will have you feeling like you have just stepped out of your favorite nail salon. 
To make this at-home experience even better there is also tasty double caramel popcorn, the perfect snack for chilling and watching a movie or binge-watching a new tv show. 
When you purchase a gift from Sam & Lance you are supporting a female-owned business. Their business also plants trees to help our Earth and their products are never tested on animals.
You can also chose a card and gift message to include for the recipient.
Gift Idea Description:
Comeback Snacks Double Caramel Popcorn
Jeln Cuticle Oil
Rooted Woman Nail Polish
For more information, visit Samandlance.com


This product is sold by SAM & LANCE: Shipping information:
Delivered by Canada Post
Free shipping from $100,00
Some questions before buying?
Questions & Answers on SAM & LANCE (F.A.Q.)
See more gift ideas from SAM & LANCE: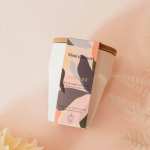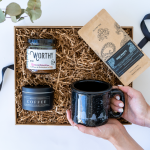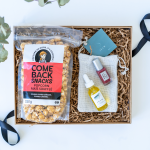 View all ideas from SAM & LANCE >>
Buy this gift idea