You can order with your credit card if the delivery address is in Canada.
Warm & Cozy Gift Box
Buy on Samandlance.com
Product not available
Our opinion
What could be better than the gift of warmth and coziness? This gift box is the perfect way to bring a smile to anyone's face because it is packed full of so much amazingness. Everyone loves adding a new mug to their collection and this cabin-inspired one is such a cozy vibe. For tea lovers, included also is a delicious and smooth Herbal Tea. Whether it is for a scone or just to have a spoonful of, the homemade uniquely flavored jam is a super tasty asset to any kitchen pantry (or fridge, we don't judge where you keep your jams). To top it all off there is a hand-poured, soy wax, coffee-scented candle that will leave any room feeling cozy and inviting.
This truly is a beautiful gift box and what's more, you can add a handwritten note for that personal touch.
When you purchase from Sam & Lance you are supporting a female-owned business. Their business also plants trees to help our Earth, and their products are never tested on animals.
Gift Idea Description:
Elctrk Tea Bombshell Tea:
Salty Raven Moon Over 3 Graces Mug:
River Birch Coffee Candle:
Worthy Jam Artisinal Jam:
For more information, visit Samandlance.com


This product is sold by SAM & LANCE: Shipping information:
Delivered by Canada Post
Free shipping from $100,00
Some questions before buying?
Questions & Answers on SAM & LANCE (F.A.Q.)
See more gift ideas from SAM & LANCE: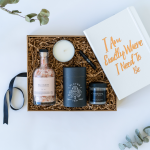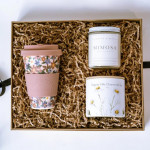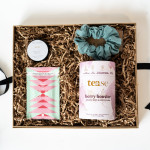 View all ideas from SAM & LANCE >>
Buy this gift idea