You can order with your credit card if the delivery address is in Canada.
Lili Satsuma – 100% Soy Wax Candle
$ 35.00
What we think
This candle will give you a boost of energy to undertake any project!
Lili is a 8oz candle with the exotic scent of Satsuma, a hybrid citrus between an orange and a mandarin that is very popular in Japan. Its fragrance is known for being both energizing and stimulating.
Description
The MAISON SÖYÅ X LAURENCE ROY collection is a new exclusive line of candles in a ceramic pot handmade by ceramist Laurence Roy. Each candle is sold in a single copy with an exclusive fragrance!
The 8oz can burn up to 50 hours.
Maison Soya's candles are meticulously handcrafted from top quality natural materials.
Each candle is hand-poured with 100% soy wax, harmoniously scented with floral or fruity fragrance oil, and uses a natural cotton wick.
Fragrance: Orange peel, Mandarin orange and grapefruit.
Maison Soya
MAISON SÖYÅ candles are made entirely of soy wax without any additives. Each candle is carefully hand poured. Our candles are paraben free, phthalate free and contain no petroleum derivatives! MAISON SÖYÅ always uses vegan and ecological products to make sure we respect our fauna and flora.
>
For more information, visit Maisonsoya.com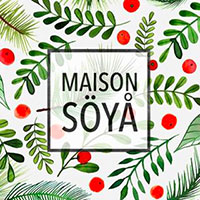 See more gift ideas from Maison Soya
>
View all ideas from Maison Soya
Share on social networks or by email: