You can order with your credit card if the delivery address is in Canada.
The Survival Kit
Buy now
$ 95.00
Our opinion
Sometimes at the end of a long day or week, a survival kit like this is what is needed. Starting off with tasty granola with whole almonds and cashews for that sweet and savory combination. Add a beautifully scented morning candle to that mix and you're set for the day. It doesn't stop there, once evening time hits this survival pack has you covered with a relaxing oil applicator, moisturizing lip balm/ blusher, and therapeutic lavender mask!
Maybe it is for yourself, for a new mom, or for an amazing woman in your life that deserves a treat, either way, this is the ultimate self-care box! You can also add a personalized note or greeting card as a lovely finishing touch to this gift.
Gift Idea Description:
Triple nut crunch granola by Granolust
Morpheus' Arms roll-on by ThéraSens
Therapeutic lavender mask by Amma Thérapie
San José balm by BAUM
Candle "6h01 AM is way too early" by Dans la prairie (large, 220ml)
For more information, visit the Shopmoica giftboxes online shop


This product is sold by Shopmoica giftbox: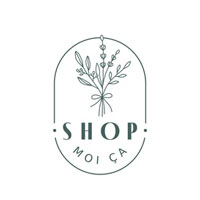 Shipping information:
Delivered by Canada Post
Free shipping from $80,00
Some questions before buying?
Questions & Answers on Shopmoica giftbox (F.A.Q.)
See more gift ideas from Shopmoica giftbox: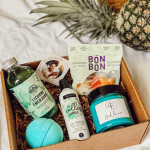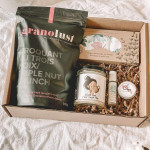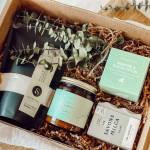 View all ideas from
Shopmoica giftbox >>
Buy this gift idea