You can order with your credit card if the delivery address is in Canada.
Table top fire bowl
$ 189.00
What we think
Giving a table top fire bowl to someone is a great and unique gift! It's a cool product from Luxury Fire Canada. For the long night inside or outside the house, this table top fire bowl will just make it better. With the clean gel fuel, it is very easy to use and refill. A great attribute to add to your decoration and for your parties to put at the center of the table.
Perfect to give as a unique gift to someone who doesn't have the space to have an outdoor fireplace. It's even possible to use it indoors or outdoors since it's clean-burning and odorless.
A tabletop fire bowl like this one allows you to relax peacefully around it, read a good book or even roast some marshmallows! It's like camping at home.
Description
Dimensions: 11" Diameter, 5.125" Height
Weight is 15lbs
Includes the Geo Fire Bowl, Mexican beach pebble, a protective cork base pad and 3 cans of Terra Flame Gel Fuel by SunJel
Fire anytime and anywhere, high design and comfort
Beautiful 7 in. Flame
2-3 hours of burn time per can of gel fuel (odorless gel fuel canister)
Clean burning and environmentally friendly
Safe when used as directed
Available in White, Pewter and Graphite
Luxury Fire Canada
Sales Maverick Inc is the corporation that the brand Luxury Fire Canada resides. We created Luxury Fire Canada as a online retailer specializing in unique fire features. We use Sales Maverick Inc as the distribution arm for our products.
>
For more information, visit Luxuryfirecanada.com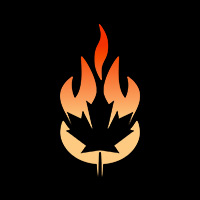 See more gift ideas from Luxury Fire Canada
>
View all ideas from
Luxury Fire Canada
Share on social networks or by email: