You can order with your credit card if the delivery address is in Canada.
Quirky Adventures Ottawa – Guess Where Trips
$ 65.00
Free shipping
What we think
If you and your friends/family absolutely LOVE stumbling across fun and quirky locations on road trips then this Quirky Adventure is the one for you!
Based in the Ottawa area, this itinerary will take you on a trip full of interesting stops where you will come across cafes, cute and funky stores, old mills and many other outdoor photo opportunity spots along the way. Included in the itinerary are recommended food stops and cool pit stops to check out as you go from location to location. With Guess Where Trips you also get a list of products to bring with you before you go so your group is more than prepared for what is ahead, as well as being emailed your itinerary before you set off on your adventure.
Take the work and stress out of figuring out where to go on your day trip and let the specially curated itinerary do the work for you so you can concentrate on having all of the fun and making wonderful memories of your trip.
Description
Based in Ottawa area
Preparation list also included 
One package is recommended for 1-5 people
Accommodation suggestion list included should you wish to extend your trip 
PDF itinerary included 
Kid friendly
Pet friendly
Guess Where Trips
We create, design and sell surprise road trip itineraries for people to do in Ontario, BC, Alberta and Nova Scotia. Customers have the option between a mailed version - which comes in 5 envelopes - or a PDF instant download, which is one large PDF that is emailed. The website gives a good indication of the trip highlights, and the general area it takes place. But the actual stops remain a surprise as they open their envelopes or go through the PDF. All our itineraries are created, designed, printed, and shipped from our London, Ontario office.
>
For more information, visit Guesswheretrips.com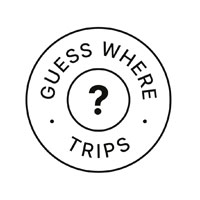 See more gift ideas from Guess Where Trips
>
View all ideas from
Guess Where Trips
Delivered by Receive a PDF by email
Free shipping
Share on social networks or by email: