You can order with your credit card if the delivery address is in Canada.
Local markets and picturesque towns – Guess where trips
$ 65.00
Free shipping
What we think
We are very excited to present a totally unique gifting experience from the team at 'Guess Where Trips'. Their founder Jessica has taken the travel experience to a whole new level with her fun itinerary based trips that will have you inspired to set out and discover places in an exciting and memorable way. Once you have chosen your preferred trip package on their site, you will then be emailed an itinerary for your trip with recommended roadside stops along the way as well as a 'Before you go' list so that you can gather any essentials that may be needed along the way. There will also be a list of attractions to stop and check out, local restaurants, stores and activities! These suggestions are recommended according to the package you select.
This particular trip 'Local Markets and Picturesque Towns' is one of their best sellers and we can see why! This itinerary offers lots of surprise spots including amazing local markets, a beautiful historical town not to mention lots of opportunities to immerse yourself in nature with river walks, waterfalls and more! So why not cut out the hassle of having to plan your trip and let 'Guess Where Trips' guide you on a memorable journey with lots of captivating sights to take in.
Description
The average trip will take anywhere from 6-8 hours

Province : Ontario

PDF itinerary included

Preparation list also included

One package is recommended for 1-5 people

Accommodation suggestion list included should you wish to extend your trip
Guess Where Trips
We create, design and sell surprise road trip itineraries for people to do in Ontario, BC, Alberta and Nova Scotia. Customers have the option between a mailed version - which comes in 5 envelopes - or a PDF instant download, which is one large PDF that...
>
For more information, visit Guesswheretrips.com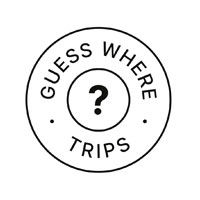 See more gift ideas from Guess Where Trips
>
View all ideas from
Guess Where Trips
Delivered by Receive a PDF by email
Free shipping
Share this gift idea wherever you want: