You can order with your credit card if the delivery address is in Canada.
Rocky Mountain route – Guess Where Trips
$ 65.00
Free shipping
What we think
The Rocky Mountain Route itinerary package from Guess Where Trips will bring you on a stunningly scenic trip where you will experience wonderful sights, eateries, breweries and lakeside strolls.
Guess Where Trips provide you with an itinerary before you go and a preparation list so that you know what to bring ahead of time. This trip will also take you along one of the most iconic and sought after road trip destinations in the world! If that doesn't already have you intrigued and gearing to go, this trip also brings you through a picturesque town where you can grab lunch or a light snack along your travels.
If you are looking to head off on a memorable adventure this is certainly the package to check out. Perfect gift either for yourself or for a friend/family member who loves to head out into the open air and be amongst mother nature.
Description
Description
Alberta

Trip includes one of the most iconic road trip destinations in the world

National Parks pass purchase advised (can be bought online)

Great for food lovers and wine connoisseurs

PDF itinerary included 

Preparation list also included 

One package is recommended for 2-5 people

Accommodation suggestion list included should you wish to extend your trip
Guess Where Trips
We create, design and sell surprise road trip itineraries for people to do in Ontario, BC, Alberta and Nova Scotia. Customers have the option between a mailed version - which comes in 5 envelopes - or a PDF instant download, which is one large PDF that is emailed. The website gives a good indication of the trip highlights, and the general area it takes place. But the actual stops remain a surprise as they open their envelopes or go through the PDF. All our itineraries are created, designed, printed, and shipped from our London, Ontario office.
>
For more information, visit Guesswheretrips.com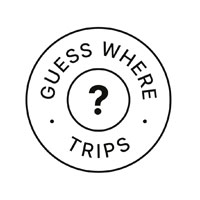 See more gift ideas from Guess Where Trips
>
View all ideas from
Guess Where Trips
Delivered by Receive a PDF by email
Free shipping
Share on social networks or by email: